LE CAP, Afrique du Sud, 1er novembre 2017 /PRNewswire/ — Le 27 octobre, les représentants du comité de Sanya, qui prend part à la course à la voile « Clipper Round the World » 2017-18, se sont rendus à l'université du Cap (UCT) et ont fait la promotion de la ville de Sanya. Les professeurs et les étudiants des programmes universitaires internationaux de l'UCT sont venus et ont écouté la campagne de promotion. Celle-ci englobait le légendaire voyage à la voile du célèbre yacht – Sanya Serenity Coast.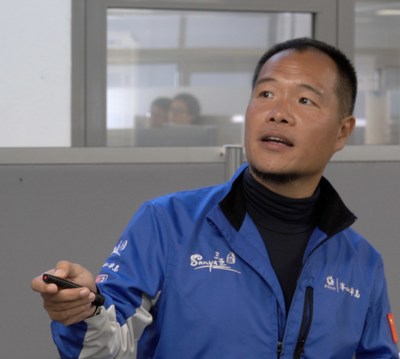 Photo – https://mma.prnewswire.com/media/593759/Sanya_Ambassador.jpg
Photo – https://mma.prnewswire.com/media/593760/Promotion_Activity.jpg
Pour ouvrir l'acte promotionnel, un film publicitaire sur Sanya a été présenté, qui a donné au public un bon avant-goût de Sanya. A aussi été interprétée une chanson intitulée « Welcome to Sanya ». La chanson, tout comme le film, ont impressionné le public, qui a également pu voir le paysage côtier tropical sur l'écran. Une impression de « Hawaï Oriental » a été créée parmi les membres du public, qui ont manifesté leur intérêt et leur désir de voyager vers cette destination.
Un étudiant du Programme académique international a déclaré : « Sanya est une très belle ville, elle sera certainement ma destination préférée pour voyager à l'étranger. Il y a aussi des boutiques hors taxes. Ça sera un paradis du shopping pour moi. »
Après avoir présenté Sanya, Law Feng, le skipper qui est un bon ambassadeur de Sanya, a continué à partager sa propre histoire de navigation. « Ce n'est pas facile qu'une vingtaine de personnes navigue sur une mer forte avec un voilier de 70 pieds (21 mètres). La coque est souvent inclinée de plus de 45 degrés, et il faut résister à des vagues de 10 mètres de haut ».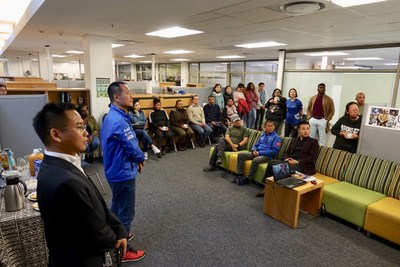 A ensuite été présentée une vidéo du voilier pendant sa traversée de l'Atlantique. Elle a fait des remous dans le public. Celui-ci est resté impressionné et sans voix face aux images du voilier fendant les vagues. Wayne, un professeur qui travaille sur les Programmes universitaires internationaux, a appris qu'il y aurait une journée portes ouvertes pour le voilier de Sanya, et a demandé avec enthousiasme comment y participer, avant d'ajouter : « Mon fils a 8 ans, je voudrais l'emmener voir le magnifique voilier de Sanya, en Chine ».
Fondée en 1829, l'université du Cap est la plus ancienne université d'Afrique du Sud. Le premier cas de transplantation cardiaque humaine dans le monde a été réalisé par le professeur Chris Barnard de l'UCT. Jusqu'à présent, deux diplômés ont remporté un prix Nobel.
La campagne de promotion de la ville de Sanya espère prospérer dans le monde entier, en particulier à l'intention de la jeune génération et des jeunes talents de demain.