SHENZHEN, China, Oct. 8, 2018 /PRNewswire/ — Absen, a leading global LED provider, recently launched PL Lite, a new generation of rental product for indoor and outdoor applications. The PL Lite was first unveiled at LED China, the world's preeminent LED exhibition, where visitors had the opportunity to experience the product first-hand, and which resulted in orders of over 2,000 sqm from visitors to the Absen booth.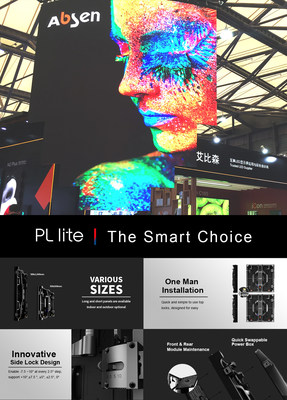 Engineered to deliver the best balance of visual performance, ease of use, flexibility and reliability with an excellent price-to-performance ratio, PL Lite is available in four pixel pitches: 2.5, 2.9, 3.9 and 4.8. The PL Lite is currently available in APAC and Latin America.
Designed for simple operation, the PL Lite series features 9kg-12.5kg lightweight panels and an industry-leading vertical auto-lock system, enabling a quick and easy installation, regardless of screen size. This mechanical advance is coupled with the unique Platform design, meaning modules, components and accessories for all available pixel pitch products can be used on the same frame, and customers do not need to stock all types, reducing cost. PL Lite also features front and rear service, and has a quick swappable power box, allowing tool-free service in seconds.
To meet the requirement of design flexibilities, Absen developed a proprietary Side-Lock curve system. PL Lite provides -7.5 to +10 degrees curve, hanging bars and the Universal Stacking System, in addition to the lightweight panels. Optimized for extra-large outdoor LED display applications, it features a variant panel of 500*1000mm for P3.9 and P4.8, twice the standard size of 500mm*500mm but 20% lighter than conventional panels.
Absen PL Lite boasts a 110% NTSC color gamut and more than 7000:1 high contrast and delivers extraordinary visual performance. Adopting a robust new cabinet frame with IP65/54 water-proof design and special edge protection, it is a perfect all-weather rental solution for a wide range of applications from outdoor concert touring and festivals to corporate events, car shows, government activities, summits and exhibition stands.
About Absen:
Absen is an award-winning provider of LED display solutions, which are used for a wide range of indoor, outdoor and rental applications. As the number 1 exporter of LED displays in China for nine consecutive years, Absen's products are deployed in over 120 countries around the world.
Photo – https://mma.prnewswire.com/media/765417/ABSEN_PL_lite.jpg
SHENZHEN, China, May 28, 2018 /PRNewswire/ — Growing from a fishing village in the '70s to a metropolis now, Shenzhen has seen rapid development accompanied by imbalance and non-systematic resource allocation. To improve city administration and service capabilities, Shenzhen has been working hard to transform it to a "smart city".
Committed to Shenzhen's mission of becoming a Smart City role model, Longgang district built the "smart city brain", Longgang Operation Centre (LOC), and introduced the world's largest NPP LED display system provided by the world-leading LED manufacturer Absen.
Composed of 798 panels with an elegant curve of 37.1 meters in radius, this 166.9 sqm 1.2mm screen is 25.6m by 6.5m and contains a record-breaking 103 million pixels. Featuring industry-leading technologies like power and data redundancy, CrystalView and PreciseAlign technology, this control room solution can offer quality images, comfortable viewing experience and robust stability. 181 signals are received and displayed through 105 windows at 720p (40 at 1080p and 10 at 4K resolution).
"To engineer such an enormous curved screen of high resolution in 85 days from production to installation is a big challenge", said the sales director of Absen, Zhang Yongfeng, "The center was still being built and full of dust during installation process. Thanks to our sophisticated technologies and highly-effective teams, it was really a tough task, but we made it!"
What highlights this project is the innovative power and data redundancy technology, which secures the robust stability of the "smart city brain". Each panel is equipped with two power banks and two receiving cards so that the power and signal can be switched to the backup set whenever needed, which means the display system will never go down.
"We once were in a dilemma of choosing LCD, DLP or LED. LCD and DLP screen would show unacceptable gaps for a demanding control room environment," said project manager Wu Yanbin, "but we know it is right when we try CR1.2 and see each panel fits seamlessly to the next, leaving no black bezel, not to mention the power and signal backup design. That's why we choose Absen".
About Absen:
Absen is an award-winning brand providing LED display solutions and service and has been ranking first among Chinese manufacturers for nine years in a row in exporting LED displays. Their LED displays have been exported to over 120 countries and regions.
Contact:
Yuchun Li
+86-755-89747399
yuchun.li@absen.com
Photo – https://mma.prnewswire.com/media/697507/Absen_NPP_LED_Display.jpg